| | |
| --- | --- |
| | Article In Charlotte Arts Magazine Break |

This article & photos were emailed to me by Richard Handal.
Publication: Break (weekly arts magazine) (ISSN: none that I could find)
Date: August 14, 1996 Page: 14, also cover photo
Article Type: Interview/profile Writer: Lindsay Planer
Publisher: Knight Publishing Company, Charlotte, N.C.
Photos: One full page color photo on cover of Tori playing the
harpsichord, and a similar full page B&W one inside. Both photos taken
by the art director for the publication Andrea Ross, and were from
Columbia, S.C. on April 24, 1996--from BEFORE the soundcheck. And the
interview was done by phone, not in person on 8/7/96.
Cover Headline: Tori Amos On Stage: Unguarded And Riveting
Article headline: It's Best To Catch Her Live
Tori Amos to Perform at Ovens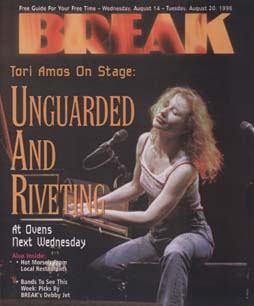 The best way to experience Tori Amos isn't by repeated listenings to her records--excellent though they are. The best way to experience Tori Amos isn't by watching MTV in hopes of catching her latest video--that's if and when they are actually playing music videos. No, the best way to experience Tori is to share some physical space with her. Ask any of Amos' immoderate fans. You'll find them lined around the block, cueing up getting concert tickets or trying to get a way into the show. They know (or will soon enough) that Amos' music will transcend the typical musical performance featuring a woman playing a bunch of songs for frenzied fans. If that is what you want try a Gloria "I'm Cuban when it's convenient" Estefan concert. What the curious and the crazed alike will quickly discern is that the music of Tori Amos is virtually indistinguishable from the life of Tori Amos. Amos was born the daughter of a Methodist Minister in High Point, N.C. She entered the prestigious Peabody Conservatory in Baltimore at age five on a music scholarship--then was expelled six years later for "playing by ear." Her early teens were spent playing a garden variety of pop music standards and Gershwin classics for Washington D.C. lushes.
Amos then rediscovered the Tori of old. The Tori that had become severely repressed from years and layers of musical convention and repression. The Tori that was destined to become her own woman. Her revelation led to a move to Los Angeles in her late teens and subsequently to form the glam-metal band Y Kant Tori Read?--a mostly forgettable band whose fame came as a result of Amos' successful solo works.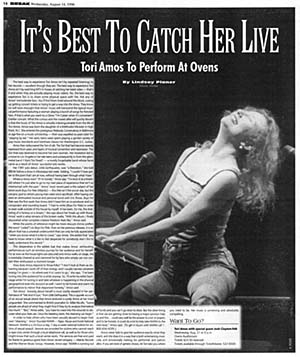 Her 1991 solo debut, Little Earthquakes, was "a liberation," she told BREAK before a show in Mississippi last week. Adding, "I couldn't have gotten to the point that I am at now, without having been through what I have."
Where is Amos now? "If I'm honest" Amos says, "I'm kind of at a threshold where I'm just able to go to my next place of experience that isn't so intertwined with the past." Amos' most recent past is the subject of her latest work Boys for Pele (Atlantic)--this Pele isn't the soccer star, but the volcanic god to whom young men were once sacrificed. After having created an attenuated musical and personal bond with Eric Rosse, Boys For Pele was the first work that Amos didn't have him as co-producer and co-conspirator and sounding board. "I had to write [Boys For Pele] in order to even walk outside of the house by myself. It has been, for me, the shattering of a fantasy or a dream," she says about her break-up with Rosse, Amos' work is what remains of this broken reality. "With this album, I finally discovered what complete creative freedom feels like," Amos said.
While the points of reference might be more obscure (Amos prefers the word "coded") on Boys for Pele, than on her previous releases, it is an album that has a universal undercurrent that can only be fully appreciated "when you know what it is like to crawl," says Amos. She added that "you have to know what it is like to feel desperate for somebody else's fire to really understand this record."
This desperation is the added fuel that makes Amos' exhilarating performances such an emotive journey for her audience and for herself. For as soon as the house lights are obscured and Amos walks on stage, she is inevitably cheered at and clamored for by fans who simply can not contain their enthusiasm a moment longer.
How does Amos respond to those folks? "I don't look at them as distracting because I work off of their energy; and I usually harness whatever energy I'm given--to where ever it is I want to go," she says. "I've been tuning into [the audience] for a while anyway. So, I'll write my setlist backstage while I'm tuning in and take whatever is happening in the physical geographical area into account as well. I want to be honest and want my performance to mirror that responsive honesty," Amos said.
Tori Amos' honesty about herself is most starkly revealed in her performance of "Me And A Gun," from Little Earthquakes. This a cappella account of an actual sexual attack that Amos endured is surely Amos at her most unguarded. She commented to British journalist Dr. Mike Nicolls, "Some people are afraid of what they might find if they try to analyze themselves too much." "But," Amos adds, "you have to crawl into the wounds to discover what your fears are. Once the bleeding starts, the cleansing can begin."
In order to help others who have been sexually abused to begin their own "cleansing," Amos founded RAINN--Rape, Abuse and Incest National Network. RAINN is a 24-hour-a-day, 7-day-a-week national hotline for victims of sexual assault. Services are provided for victims who cannot reach a rape crisis center through a local telephone call, as well as for those who might know that such a local center exists. The services are free and paid for thanks to generous grants from Amos' record company--Atlantic Records and the Warner Music Group. However, Amos says "RAINN is running out of funds and you can't go door-to-door. But the silver-lining is that we are getting close to having a major sponsor help us and this... could very well be the answer to a lot of prayers; and to be honest, it could do a lot to help take RAINN to the next level," Amos said. (To get in touch with RAINN call 1-800-656-HOPE.).
Amos never fails to give her audience exactly what they want, and she does it in a way that is both entertaining musically and emotionally riveting for performer and patron alike. If you are tired of generic shows, let Tori take you where you need to be. Her music is unnerving and absolutely compelling.

Want To Go?
Tori Amos with special guest Josh Clayton Felt
Wednesday, Aug. 21 at 8 p.m.
Ovens Auditorium
Tickets $23.50 reserved
Tickets available through TicketMaster, 522-6500



Please give me feedback, comments, or suggestions about my site. Email me (Michael Whitehead) at mikewhy@iglou.com