Tori is one of the acts presented in an article entitled "Hit or Miss? All the season's big releases- and their chances of success, according to our panel of experts!" in the October 2002 issue of Maxim Blender Magazine in the U.S. (Issue #10 with Pink on the cover.) There is also a photo included with the small snippet about Tori's upcoming album. Thanks to Jen Parrish and Marla for sending me the article and to Jen for the scan of the photo.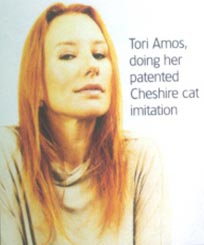 October 15 [wrong release date!]
Tori Amos
Scarlet's Walk (Epic)
Amos's Boys for Pele (1996) sold a million; last year's Strange Little Girls just 358,000. "I've heard the new album and am convinced the world will embrace Tori again," says Bruce Warren, program director at Philadelphia's WXPN radio station. Why? "It reminds me of her first."
Verdict: LOOKS PROMISING!