Billboard Magazine
April 4, 1998

Updated April 3, 1998

Toriphile Jordy Keith has made me aware of an exciting article from Billboard Magazine that she discovered on America Online. The article appears in the April 4, 1998 issue of Billboard. The article is called "Tori Amos Isn't Alone In Her "hotel" Atlantic Album Features Full Band Sound" by Paul Verna. The version of the article in the magazine is longer than the version you can read on AOL. The article talks about Tori's new album and tour, future promotional plans and magazine appearances, and contains some interesting quotes from Tori. It is incredibly informative, although it is likely wrong when it says that tickets for the preview club tour can be bought over the internet or won through radio station giveaways!
Parts of this article (likely similar to what was on AOL) are popping up in different places. Toriphile Brian reports that a portion appeared in Cleveland's major newspaper, The Plain Dealer.
The photo below was also in Billboard magazine and was sent to me by David.

Tori Amos Isn't Alone In Her "hotel" Atlantic Album Features Full Band Sound
April 4, 1998
By Paul Verna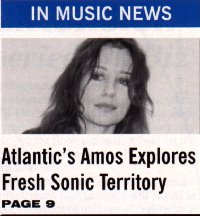 NEW YORK--Having completed three albums in which her bold piano playing took center stage, singer/songwriter Tori Amos decided it was time for a change. Her new Atlantic Records project, "from the choirgirl hotel" (due May 5), sports an ensemble sound that ranges from ballads with sparse accompaniment to full-blown productions that could easily rate as club hits.
"The piano"s more integrated into the sound now," says Amos. "I wanted to cut live with a band, and the piano had to hold up as one of the players in the band. All the cuts were recorded live with a drummer, a programmer, and a bass player."
"From the choirgirl hotel" was recorded and mixed over several months in Cornwall, England. A 200-year-old barn on a three-acre property was converted into a state-of-the-art recording studio for the project, which was produced by Amos and engineered and mixed by longtime associates Mark Hawley and Marcel van Limbeek. Joining Amos on the record were drummer Matt Chamberlain (of Fiona Apple fame), programmer Andy Gray, bassists Justin Meldal-Johnsen and George Porter Jr., and guitarists Steve Caton and Stewart Boyle.
Amos views her first three full-length solo albums--"Little Earthquakes" (1992), "Under The Pink" (1994), and "Boys For Pele" (1996)--as a "trilogy" that established her as a piano-driven composer whose songs shone more for their stark beauty than for their arrangements. For "choirgirl," however, Amos wanted to move to new sonic territory.
"I"d taken the "girl and the piano" thing as far as I could, and I really wanted to be a player with other players," says Amos. "It was very important for my growth as a musician to play with other musicians instead of having them play around me."
The ensemble approach is illustrated by the first single, "Spark," a slow, shuffling tune with a catchy, repetitive chorus that stands to break new ground for Amos at radio. The track will be serviced to alternative and triple-A outlets April 6, according to Atlantic Records Group co-chairman/co-CEO Val Azzoli, who says the new album happens to be more radio-friendly than Amos" earlier records, though not by design.
"Nothing she"s doing has been geared towards radio, but because it"s more accessible, we hope to get more airplay," says Azzoli. "Also, radio is more accessible to Tori than they were in the past. Our philosophy with Tori has always been to get her music played in every city, whatever format will play her. I don"t care if it"s college, alternative, triple-A, or pop. We want to make sure every city in America hears it."
Craig Kallman, Atlantic Records Group"s executive VP of the office of the chairman, says, "Alternative, pop, triple-A, modern AC--every format possible can play this record and look like they are moving the musical boundaries forward."
In working the album, Atlantic will focus on Amos" existing fan base while at the same time attempting to increase her audience, according to Atlantic executive VP/GM Ron Shapiro.
"It"s clearly our hope, our desire, and our intent to expand Tori"s audience," he says. "We"ve come to see over the course of her albums with us that Tori"s an incredibly gifted musician who has an enormous amount to say to a fan base of 1 million people in America and another 1 million outside of the States."
Amos will preview the release of "choirgirl" with a full-band club tour--dubbed Tori Amos Sneak Preview "98 "plugged"--that starts April 18 in Fort Lauderdale, Fla., and ends May 6 in Los Angeles, hitting other major markets like New York, Atlanta, Boston, Philadelphia, Detroit, Chicago, Seattle, San Francisco, and Washington, D.C.
The album will also be set up by a media blitz that will include TV appearances on "Late Show With David Letterman" (April 10) and "The Tonight Show With Jay Leno" (May 12), as well as cover stories in Rolling Stone (May 5) and Musician (July), according to Shapiro. Album Network will broadcast a syndicated radio program based on Amos" April 30 show at Park West in Chicago.
A clip for "Spark" was shot March 21-24 in the U.K. by video director James Brown, according to Shapiro.
The Internet, a strong promotional vehicle for "Boys For Pele," will be used again to full effect, Shapiro says. Amos will be the first artist to participate in a promotion by Tower Records and AT&T whereby customers who purchase albums at the chain"s stores or World Wide Web site will be able to download, free of charge, bonus tracks exclusive to the promotion (Billboard Bulletin, March 17). In Amos" case, the non-album track "Merman" will be available to Tower customers April 7.
Additionally, tickets to the sneak preview shows will be available only through the Internet or radio station giveaways. As Amos puts it, the preview tour "will be for the kids that stand in line, not for the schmooze crowd."
Amos says she is particularly excited by the club tour, which will present her in a new light to fans who are accustomed to seeing her in more stripped-down settings. "I"m ready to bring all the records together live and play some of the old music too, now live, in this way," says Amos, whose songs are published by Sword and Stone (ASCAP).
Following the club engagements, Amos will begin a two-year world tour in the U.K. that will hit various points in Europe throughout the spring. Then she will play the U.S. during the summer shed season. In the U.K. and Europe, Amos is booked by ITB; outside those territories, her agency is the Creative Artists Agency.
In Europe--where Amos is signed to EastWest--"Spark" will be released April 20 in various territories, including the U.K., according to Lee-Ellen Newman, EastWest"s U.K. director of press. The album will be released in Europe May 4, in keeping with the continent"s Monday release cycle.
In the U.K., "Spark" comes 15 months after Amos" first No. 1 single, the Armand Van Helden remix of "Professional Widow (It"s Got To Be Big)," which also charted for 14 weeks on Music & Media"s Eurochart Top 100 and established Amos as a credible dance music artist. Prior to the Van Helden remix, she scored a top 20 U.K. hit in August 1996 with the double-sided single "Hey Jupiter"/"Professional Widow."
U.S. retailers are excited about the prospect of tapping into Amos" fervent following. Musicland divisional advertising coordinator Chris Nadler, based at the chain"s Sam Goody store in New York"s Greenwich Village, says, "Few artists connect with their audience on as personal a level as Tori does."
He notes that Sam Goody saw brisk activity on Amos" catalog early this year, when her music was featured on the "Great Expectations" soundtrack, and a couple of years ago, when--following the artist"s concert to benefit her Rape, Abuse & Incest National Network--Atlantic reserviced her 1992 single "Silent All These Years." Regarding "choirgirl," Nadler says it is Amos" "most commercial album yet, but still on her own terms."
Assistance in preparing this story was provided by Paul Sexton in London.


Please give me feedback, comments, or suggestions about my site. Email me (Michael Whitehead) at mikewhy@iglou.com