Tori gave an award during the VH1 Big In 2002 Awards show, which actually took place on December 4, 2002 at the Olympic Auditorium in Los Angeles, CA. VH1 in the U.S. broadcast the awards show for the first time on Sunday, December 15, 2002 at 9:00PM ET/PT. Tori presented an award with Frankie Muniz. The category was "The song that sticks in your head the most" which went to Vanessa Carlton. You can see a photo of that to the right. You can see many photos from the awards at wireimage.com. (But you can only see them at full size if you subscribe to their service.) Thanks to Rachel, Heather Singmaster, Alex, Kimmy Reed, J Clarke and Trent Middleton for details. You can read more about the awards at the VH1 web site. VH1 also has some photos of Tori at these awards on their site. You can see one below from VH1.com: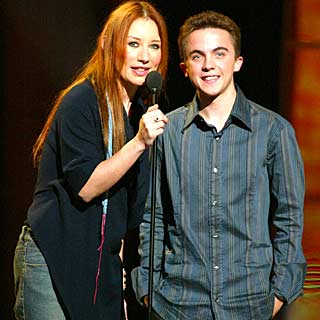 Since the initial broadcast, VH1 has shown the Awards show several times.
You can also see a photo of Tori from these Awards in the January 16, 2003 issue of the German magazine Bunte.