USA Today - Geek 100
December 28, 2000


Tori has made the Geek 100 according to a press release at the Yahoo! web site. This list comes from The Geek Factory (a Silicon Alley Public Relations firm) and honors those who made a difference in 2000. This list was mentioned in the Lifeline section of the December 28, 2000 edition of USA Today. Tori was mentioned in the "Music Geeks" category. Click here to read more about the Geek 100.


Performing Songwriter
December 2000


I received the following information from Bryan Cody about the December 2000 issue of Performing Songwriter magazine. (volume 8, Issue 50)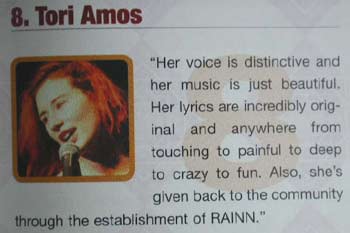 Thanks to Bryan Cody for sending me a scan of the photo with this magazine.
I just picked up a copy of the magazine "Performing Songwriter" at Borders. Emmylou Harris, who is one of my very favorites, is on the cover and the feature article inside. Low and behold this issue also featured the Reader's Choices Of Women Changing the Face of Music. Tori Amos was voted #8. There is a colour picture and a little write up on each of the top 10. (See the photo above.)
Here is the Tori bit: "Her voice is distinctive and her music is just beautiful. Her lyrics are incredibly original and anywhere from touching to painful to deep to crazy to fun. Also, She's given back to the community through the establishment of RAINN."
There also another colour picture of Tori on page 73. This is with association of a couple of pages about ASCAP news (The American Society of Composers, Authors, and Publishers) which was established in 1914.
Here are the top 20 positions in the magazine. Some of the positions have more than one artist because there was a tie.
Joni Mitchell
Emmylou Harris
Carole King
Aretha Franklin
Billie Holiday
Ani DiFranco
Bonnie Raitt
Tori Amos
Ella Fitzgerald
Sarah McLachlan
Janis Joplin
Jewel
Chrissie Hynde
Indigo Girls
Laura Nyro
Tina Turner
Barbara Striesand
Natalie Merchant
Madonna
Nanci Griffith
Linda Ronstadt
Dolly Parton
Carly Simon
Tracy Chapman
Joan Baez
Sheryl Crow
Patsy Cline
Alanis Morrissette
Melissa Etheridge


Pop Nation (America's Entertainment Weekly)
December 21, 2000


Seattle Times Coverstory
December 26, 2000


Indiana USEXPRESS
December 26, 2000


Carly H. Franklin told me about an article that appeared on the front page of the December 21, 2000 issue of Pop Nation (America's Entertainment Weekly). The article had the title "Open Amos ' Fan-Friendly but not 'fan'-loving" and was written by Jeffrey Zaslow. This was actually a syndicated article that appeared in other publications as well. It was in the December 26, 2000 issue of Coverstory, a Seattle Times entertainment publication and in a small Indiana newspaper called USEXPRESS from December 26, 2000. (It will likely be seen in many more places as well.) Thanks to Rose for telling me about the Seattle article and Amanda *Sparkly Girl* Keller-Hester for the Indiana info.
Tori is on the cover of the Coverstory version, and that photo is the November/December 1998 "Rockrgrl" magazine picture, except the one in "Coverstory" is in color instead of pink and black.
The Indiana paper included two photos of Tori. The article itself talked about Tori's relationship to "The people who come to the shows."


Keyboard Magazine
December 2000


According to rauck, the December 2000 issue of Keyboard Magazine includes a small photo of Tori and a blurb about her being a new mom.


Mad Magazine
December 2000


Read all about Tori's appearance in the December 2000 issue of Mad Magazine and see their illustation of her.


Alternative Press Magazine
December 2000


In the December 2000 issue of Alternative Press magazine (issue #149 with insane clown posse on the cover) there is a small Tori mention and photo. It's in the Wiretapping News pages, on page 18. The photo is old and sits in the "QUOTE, UNQUOTE" section. (Thanks to Brandon Sink for telling me and JyM for the scan!) This is the quote:

"An ounce of breast milk is even more potent than the finest tequila." -TORI AMOS explains the procedure for preparing her new baby daughter to face life on the road.