There is a small article on Tori in the October 2002 issue (Disturbed on the cover) of Alternative Press Magazine in the Fall Preview section. The article includes a small and rather striking photo of Tori. The brief article talks about Scarlet's Walk and can be read below. You can also see the photo below that was scanned for The Dent by Moondust and Sally Clevenger. Thanks to Devin Butler for sending me the article and to Tammy for telling me about it!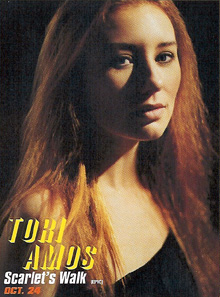 For her seventh studio album and debut for Epic, Tori Amos is going back to her roots - on all levels. The richly descriptive sketches and feather-light piano on tracks like "Crazy," "Gold Dust" and the first single, "A Sorta Fairytale," conjure memoirs of her early work, ca. Under the Pink and Little Earthquakes. Inspired partially by a visit from a Native American woman during her fall 2001 tour, Amos calls Walk a "sonic novel" about "integrating 'her' story with history-'her' story as in American. You can't love America unless you know her story, unless you know who she is, not just up until 1776," she says. "The idea came when I was on tour last year touring after Sept. 11. The songs started forming themselves...some of them I had been working on for a little while, but I didn't know the thread at the time before then. It became a journey, a road trip"

Centered around a character named Scarlet, the album crosses the U.S. - not only in geography and time, but in emotions as well. "There's a lot of beauty and love, and there's sorrow there, too" Amos says. "It is about loss, but it's also about stories and characters, and people that my character runs into." An interactive element on the CD called "Scarlet's Web" will document what the singer calls "the map of her journey. You will see what songs correspond, almost like song lines, aboriginal song lines. Each song happens in an area; there'll be a ledger, and you'll be able to follow her walk with the songs."