Tori was found in several places in the January 2002 issue of Alternative Press (AP) Magazine (#162 with Trent Reznor on the cover). First of all there are two letters to the magazine from readers refering to AP's earlier (Oct 2001) cover story on Tori. (One is very ugly and uncalled for, and very very wrong. I simply report it here because it is news, but I just want to say for the record that this person is very bitter and misguided.) Lilly (lillyLil) sent me the text of the letters, that you can read below, as well as a scan of a small Tori photo that was printed near the letters:
My Amos Is True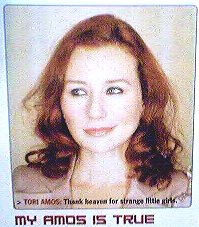 Thank you a million times over for another Tori Amos cover and amazing article [A.P. 159]. When I saw the issue, I snapped it up as quickly as possible. Tori never quits and doesn't let much stop her. She is a goddess and should never, ever be called bullshit! Her new album is yet another incredible masterpiece in her collection.
-Ashleigh Chisolm [Grand Forks, ND]
---
Thanks for uncovering the "real" Tori Amos in your October issue. What a fucking poseur! Amos proves herself to be not much better than Madonna, ripping off other people's ideas and identities under the guise of artistic license. Amos apparently hasn't experienced any of the pain that her imaginary selves have gone through. She's still a sheltered homecoming queen who, like Madonna, has retreated to England where she can nurture her wannabe-highbrow life. Deceiving her fans about being a rape victim is absolutely disgusting and shameful. There are so many women in the U.S. and the world who are victims of rape and incest. I don't care if she did start RAINN; she used her "rape experience" as a means of connecting with an audience. The fact is, she hasn't experienced that and therefore has no idea what it feels like. I find it ironic that the author of the article starts it off by defending Amos' bullshit factor- apparently, for a reason. On a positive note, very cool photo layout.
-Kathleen Richards [Berkeley, CA]

Note From Mikewhy: Anyone who is disturbed by Kathleen's VERY misguided comments above should read this.

Secondly, Lilly (lillyLil) tells me that in the January 2002 issue of A.P.'s Readers Chart, Strange Little Girls came in 9th place out of 10.
Finally, several Toriphiles, including Devin Butler, g g and Brian who were first, told me that Tori is mentioned in the part of the magazine where they have a listing of their most anticipated discs of the upcoming year. In the article discussing Marilyn Manson's disc they write, "Manson also hopes to collaborate with some female artists, especially PJ Harvey and Tori Amos.".